About Us
Making the world a more caring place. Expert, flexible and personalized home and nursing care so all can continue to live well and independently at home.
About Homage
Homage is an award-winning personal care solution that combines curated and trained care professionals with smart technology to manage and provide on-demand holistic home and community-based caregiving to seniors and adults, allowing them to age and recover with grace, control and dignity.
As a leading care services provider, Homage's core services include Care Assessments, Activities of Daily Living (ADL) assistance and Home Nursing Procedures.
Operating in Singapore, Malaysia and Australia, Homage works with care recipients with a range of mobility and medical conditions, including chronic and terminal illnesses such as Dementia, Stroke, Parkinson's and cancer, helping them be more mobile and functional as well as providing social and personal care. Homage has previously collaborated with government, health and financial organisations to distribute and deliver home – and community – caregiving services.
Our Mission: To enable wellness and recovery through holistic personal care
We believe in
Mutual Respect & Empathy
We create a culture of compassion, trust and giving by treating others the way we want to be treated
Resilience
We persevere and press on in tough times. For every problem, there will always be a solution
Willingness to Try
We embrace creativity and innovation. When we open our hearts and minds, we find new discoveries and innovative solutions
Excellence
Good is never enough. We aspire to deliver our best to everyone we serve and work with
Care-centric
At the heart of all things, the care we deliver is of the highest priority, motivation and purpose in what we do everyday
Teamwork
We never walk alone. Open-communication and cross-function collaboration is part and parcel of a Homager's life
An efficient and convenient service
Extremely professional caregivers who have created a wonderful relationship with my mother. She always looks forward to CP Catherine and CP Christina's visits. The app is so easy to use as well and makes tracking our appointments and report follow-ups a breeze.
Alice
Friendly, professional, attentive caregivers
Awesome one stop portal for my mother's medical needs. A pool of Professional caregivers are great customer service support. Thanks Homage!
Jonathan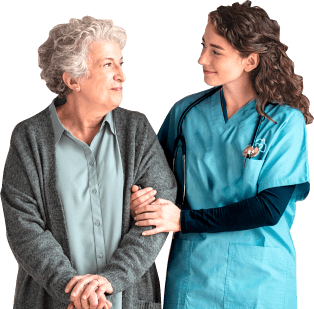 Make Home Care Personal To Your Loved One
Get started with a free consultation today, and learn why thousands of families trust Homage to deliver the best care in their homes.
Get a Free Care Consult