It can be difficult to find an engaging activity to do with loved ones with dementia. A lack of stimulation and boredom can be very frustrating for people living with dementia, particularly due to their memory difficulties and challenges with self-expression. It is important that joint activities leverage on the strengths of the person with dementia – providing a supportive environment is essential to ensuring sustained engagement in activities. 
Light Physical Activities  
The benefit of exercise cannot be understated – even for older adults living with dementia. There is plenty of evidence to indicate that physical activities can improve cognition and mental health outcomes in older adults with dementia. Exercise also has the potential to reduce stress and depression in people with dementia and should be incorporated into their daily routine in the earlier stages in order to increase adherence as the illness progresses.
There is a range of physical activities that people with dementia and their caregivers can engage in, depending on their interests, physical limitations, and current fitness levels. Gardening has been found to be beneficial for older adults with dementia as it allows them to spend time outdoors, engage in physical activity, and articulate their identity. 
1. Gardening
Nature has untapped healing potential, particularly for older adults with dementia. Gardening can improve flexibility and maintain motor skills such as reaching and bending. It also provides stimulation in a unique environment, particularly if your loved one is usually indoors. 
Participation in social gardening groups particularly highlighted the benefits of building social relationships on the basis of a shared interest rather than a shared diagnosis. It is worth exploring community gardens in your area and visiting them with your loved one to identify the programs that you may be eligible to participate in together. 
Dementia Australia offices in New South Wales are home to dementia-friendly gardens that host activities for people to assist with weeding, pruning, and planting. Participating is a great way to give back to the community while staying active. Dementia day care centres all over Australia also offer gardening programs for their participants. 
2. Light aerobics 
Aerobic exercises have been shown to improve the cardiovascular health of individuals, and improve the cognitive skills of people with dementia. The Australian Department of Health recommends at least 30 minutes of moderate physical activity on most days for Australians over the age of 65. Simple activities like walking in the park, 
If your loved one has joint or mobility issues, it may be worth exploring water aerobics programs within your community. Water aerobics are perfect for people with weak or stiff joints, as water resistance reduces the pressure of body weight on a person's joints. Many community recreational facilities offer water aerobics classes, with some catered specifically for people with dementia.  
3. Tai Chi
Tai Chi is a low-impact workout that can be done by anyone, regardless of fitness level. No equipment is required, and exercises can be performed anywhere. With roots in Chinese martial arts, this exercise has been described as "meditation in motion" and has been touted to be helpful for a number of health issues. 
In fact, there is evidence that Tai Chi can improve cognitive function in the short-term in people with dementia. Tai Chi can be performed individually or in a group, and its movements can also be modified for participants with physical limitations or who are confined to a wheelchair. It is always best to receive instruction in Tai Chi from a qualified instructor when first beginning Tai Chi to prevent injuries. The Tai Chi Association of Australia has a list of instructors organised by state and territory so you can find one closest to you. 
Arts and Crafts 
Not an outdoorsy person? Worry not, as there are plenty of indoor activities to engage in with a loved one with dementia. Arts and crafts are a great way to allow people with dementia to express themselves and share treasured memories with others. The pieces created by a person with dementia are valuable keepsakes that can be used to honour their memory after their passing. Detailed craft activities like painting and knitting can also maintain fine motor skills. 
4. Painting
Painting is one of the pillars of art therapy, and can be very effective in people with dementia – particularly those who have communication difficulties and have trouble expressing themselves. Painting provides them with a medium to express themselves when they have a moment of clarity. It can also help evoke memories of their life, and allow them to share these memories with their loved ones.
Painting can also help stimulate self-evaluation and serve as a way to communicate with loved ones when language fails. In some forms of dementia, the language centre of the brain can be affected, and painting can be used by the person with dementia to communicate instead. 
5. Knitting
Knitting has become more popular in recent years due to its many benefits. The repetitive pattern of movements involved in knitting have been suggested to reduce depression and anxiety and distract from chronic pain – particularly in people with dementia. Knitting is a productive hobby that can also help older adults save on costs of repairing clothing and purchasing items such as socks and mittens. 
As with most activities on this list, knitting in a social setting can boost psychological wellbeing and help people with dementia socialise with others who have similar interests. There are a number of libraries around Australia who have established knitting groups. Some knitting groups have also gone online in the form of Facebook groups where brave creatives can share pictures of their creations.
6. Memory Scrapbook
A memory scrapbook can be a valuable resource that chronicles the life of your loved one with dementia. This is a personal activity and can be done over a period of time. Invite your loved one to share stories about their life in chronological order and collect any photographs or mementos they may have to include in the scrapbook. 
If your loved one no longer has any physical possessions from a specific period of their life, it would be useful to record a video or audio clip of them telling their life story. It is important to only ask questions about periods that will not cause distress to the person with dementia. Not only will these recordings provide the person with dementia with a purpose, they will also serve as tangible memories of the person with dementia even after their passing. 
7. Art Appreciation 
Visiting art museums and participating in art programs is a great way for people with dementia to unwind. They provide intellectual stimulation in a safe environment and can inspire people with dementia to express themselves through art. The Museum of Contemporary Art in the ACT  and National Gallery of Art in NSW both run dementia-friendly art programs that are dedicated to providing a dementia-friendly art appreciation experience. 
The MCA program even allows participants to create their own art inspired by their gallery experience. With lockdowns in some Eastern states, some of these gallery experiences have moved online. It would be worth contacting your local museum or art gallery to find out about programs running close to you. 
Music and Reminiscence 
8. Listening to Music  
Listening to artists that your loved one with dementia enjoys is a great way to boost their mood, and has been used in reminiscence therapy to help participants reflect on their past in a positive manner. Many people with dementia often have intact long-term memory and are able to recall older memories that may be associated with pleasant emotions and music. As dementia progresses, many people find it difficult to express their needs and often become frustrated with their caregivers. Listening to music they enjoy has been found to improve their mood and reduce the frequency of challenging behaviours. 
Older adults with dementia may not be familiar with YouTube and other video streaming platforms. Introducing them to these websites and showing them videos of their favourite performers or television shows is a great way to connect with their life experience and create an opportunity for you to learn more about them. Information about their entertainment interests can also be included in a memory scrapbook about their life.
9. Recalling Fond Memories
Apart from music, it may also be worth looking through old family photo albums and inviting the person with dementia to share their life story. This is particularly useful if making a memory scrapbook, but can also be a relaxing indoor activity. It is important to monitor your loved ones' emotional state and stop the activity at the first sign of distress. 
Recent photographs can also help your loved one become acquainted with other family members – although it is important to note that due to short-term memory deficits, it is unlikely that your loved one will be able to recall the information that you have shared when shown the same photograph at a later date. 
Tabletop Games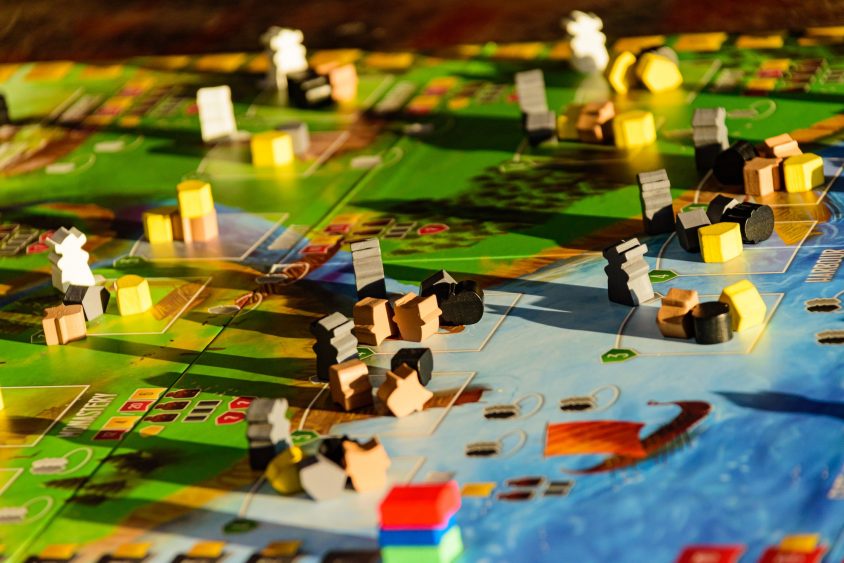 10. Family Board Games
Board games have already been shown to reduce the risk of dementia and depression among  players. Regular participation has also been shown to reduce social isolation, improve interpersonal relationships, and increase motivation. Some of the most popular games among people with dementia are Scrabble, Bingo, and Dominoes. Many of these games provide much-needed mental stimulation for people with dementia and motivate them to stay alert for a long period of time. 
There are plenty of community interest groups that meet frequently to play board games, and many welcome new members. However, this can easily be a two-person activity as well – Scrabble and Dominos can be played with just two people. It is important to allow the person with dementia to have frequent breaks while playing to allow them to relax and refocus before resuming. Also allow your loved one to take the lead on moving game pieces – if they seem to be coping well with picking up a small piece, allow them to do so, and only offer assistance when required. 
Household Activities
11. Adapting the Montessori Approach at Home
The Montessori approach has become popular in aged care facilities due to its strong evidence base and track record of improving the quality of life of people with dementia. At its core, the Montessori approach for dementia involves supporting the person with dementia and introducing support in their environment to reduce the impact of memory loss and promote independence. 
Even if your loved one is not residing in an aged care facility, the Montessori approach can be adapted for the home by providing the person with dementia with a specific role to play. The person with dementia should be given a specific role within the home. For example, they can be tasked with folding laundry or finding matching pairs of socks. These activities can be rotated on a daily basis. Performing modified household chores can provide the person with dementia with a sense of accomplishment. 
To support communication, you can provide simple communication boards with images of items that are important to your loved one so they can point at them to make requests. You can also prepare simple recipe cards of favourite dishes with instructions in simple short sentences accompanied with pictures. You can work with your loved one to create these dishes and work with them to refer to the instructions if they forget a step or make a mistake. 
Fun Activities in Australia for Loved Ones with Dementia 
Caring for a loved one with dementia can be difficult – particularly when coming up with unique activities for them to engage in daily. 
Should you need any help in taking care of your loved one, our support workers are equipped with the right skills to engage meaningfully with persons with dementia. 
 It is important to ensure that your loved one with dementia is engaging in regular physical activity and has a creative outlet for self-expression and communication. 
Need some assistance with care for yourself or your loved one? Find out how Homage can help!
References
Graff-Radford, N.R. (2011). Can aerobic exercise protect against dementia?

Alzheimer's Research & Therapy, 3

(6), 2-6. https://doi.org/10.1186/alzrt65

Hallie, N., Stickel, A., Corona, M., Zeller, M., & Melrose, R.J. (2020). Potential Benefits of Physical Activity in MCI and Dementia.

Behavioural neurology, 2020,

1-10. https://doi.org/10.1155/2020/7807856

Noone, S., & Jenkins, N. (2018). Digging for Dementia: Exploring the experience of community gardening from the perspectives of people with dementia.

Aging & mental health, 22

(7), 881-888. https://doi.org/10.1080/13607863.2017.1393793