Helping Participants Choose the Best Quality Care and Support to Optimise NDIS Funding
Our team of experienced and qualified Support Coordinators work closely with people with disabilities to understand their National Disability Insurance Scheme plan and funding, find NDIS support providers, and help you exercise choice and control in achieving your goals.
Get Support Coordination
Why Choose Homage for NDIS Support Coordination?
Support Coordination is a service to assist NDIS participants to understand, implement and organise their plans. Through Support Coordination, Homage can help you find the right Service Providers for your needs, and coordinate all your supports.
At Homage we go the extra mile to not just coordinate your support, but to also help you create a support plan and connect you with the right people to facilitate your plan and to achieve your goals.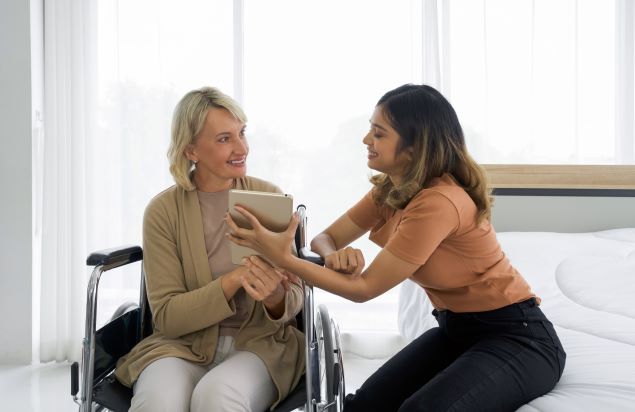 How Does an NDIS Support Coordinator Assist You?
Your Support Coordinator helps you use your NDIS plan in the most effective way possible for your benefit. They work with you to find and coordinate service providers to help you reach your goals and build skills to live more independently and stay connected in the community.
We Guide and Support NDIS Participants to:
Help you understand how the plan works and what is available to you
Support you in making decisions and exercise choice and control over your plan
Assist with negotiating with providers about their services and fees to ensure you reach your goals
Develop service agreements and bookings with your providers
Coordinate supports and help you access your local community
Assist with budgeting for each type of support required
Support the Plan Review process
Write up reports for the NDIS about your progress and any changes required
Help you to assess your goals and prepare for your plan review
NDIS Support Coordination Level & Fees
Homage offers Level 2 Support Coordination. This support item strengthens a participant's ability to design and then build their supports with an emphasis on linking the broader systems of support across a complex service delivery environment.
Get Support Coordination
Level 2 - Coordination of Supports
What Does NDIS Support Coordination With Homage Look Like?
STEP 1. First Meeting and Planning
Meet your Support Coordinator so they can understand who you are, what is important to you, and what you need from your Support Providers. A good fit between a participant and their Support Coordinators is essential to ensuring goals are being communicated and met. Your Homage Support Coordinators will assist you to understand your NDIS Plan and Support Budgets.
STEP 2. Monitoring and Reporting.
Your Support Coordinator will be dedicated to making sure you are happy with the services you receive. Support Coordinators will manage reporting to the NDIS on how your Plan is working and if the right supports are in place to achieve your goals. We will do this periodically – after your plan is approved and then throughout the year when required.
STEP 3. Reviewing Your Plan.
If your needs change at any time and you require different supports, we assist you to put together the appropriate review documentation for submission to the NDIS for consideration. Before the end of the Plan, we meet and decide if your goals are still relevant to your needs. We will contact your Support Providers to gather any reports or supporting documentation to assist in the review process and to inform the NDIS of your support needs.
Make Home Care Personal To Your Loved One
Have an obligation free conversation with our Care Advisory team today and learn why thousands of families trust Homage to deliver the best care in their homes.
Get Care Support