Patient Transport & Medical Escort Services
Need support travelling to and from your home and medical appointments? Homage support workers can get you there safely.
Get Care Support
Why We Often Skip Medical Appointments and Treatments
Given the cost, commute, time spent and discomfort of a doctor's visit, some of us get tempted to skip medical appointments, whether for chronic disease management follow-ups or preventive health screening.
For seniors and those with mobility constraints, travelling to and fro hospitals or clinics and home can be difficult. Long wait times often make a simple follow-up consultation last an entire day.
In many cases, a family caregiver is the one who accompanies the care recipient to the hospital or clinic. However, they may not always be available, due to time constraints or strained family relationships.
For seniors whose primary caregiver are their spouses, additional care support may be required due to their own health conditions and physical constraints, especially if the care recipient needs to be manually transferred from their bed to a wheelchair and then to the vehicle.
Missing Medical Appointments and Treatments Can Cause Health Complications
However, not going for follow-up consultations, medical appointments, treatment and health screening can lead to further health complications. Sometimes, patients who skip these appointments may even end up back in the hospital with more serious and costly health concerns.
Patient transport officers will also provide advice to reduce mishaps such as patients who accidentally discard the medication or mix up the dosages.
Families Use Patient Transport Services For:
Doctor's & Hospital Appointments
Visits to Daycare Centres
Important Functions
Cost of Patient Transport Services in Australia
We offer flexible pay-as-you-go pricing to ensure you or your loved one receives the care needed. We accept both private and government funding options with no lock-in contract. View Pricing.
Having a trained medical escort makes a difference
To ensure that care recipients follow through with their medical appointments, it can be helpful to have a trained professional step in and support them.
With an ageing population in Australia, the need for patient transportation services is on the rise. They play a pivotal role in ensuring individuals and seniors follow through with their appointments and medication.
From accompanying them to and from home, medical appointments, treatment facilities and/or important functions, patient transportation officers also take care of everything in between – from toileting and personal care to accurately relaying doctor's advise and medication collection. A trained patient transport officer will keep your loved one safe and sound every step of the way.
Have peace of mind when you engage a patient transport officer from Homage to accompany your loved one for their medical appointment and treatment, and help them enjoy an improved quality of life free from health complications.
Government and Private Funding Options Available
National Disability Insurance Scheme (NDIS)
We can support you as you strive to achieve your goals in independent living. We respect every person's diversity, culture and identity.
You may use your NDIS funding to engage our disability support services if:
You self-manage your NDIS funds
You may directly book services with us. Homage will issue you the service invoice for you to submit claims.
A plan manager manages your NDIS funds
You may connect Homage with your plan manager to facilitate service bookings using your NDIS funds.
Home Care Package (HCP)
Your unique needs and choices, big or small, are what we focus on. We respect every person's diversity, culture and identity.
You may use your Home Care Packages to fund your Homage services if you self-manage your HCP. You may connect Homage with your registered self-managed provider to facilitate service bookings using your HCP funds.
WorkSafe 
You can now use WorkSafe funding for Homage services if you suffer from work-related injuries or illnesses.
You will need a medical referral and approval from your WorkSafe agent to engage Homage as your service provider.
For more information, visit WorkSafe Victoria's official website. Speak to a Homage care advisor at 1300 705 029 today to arrange your recovery service!
We also support both private clients and those on the government waitlist but require care urgently. Please speak to our Care Advisor today at 1300 705 029 if you require care support.
Why Families Prefer Homage
Zero Commitment
Book flexible care solutions from 1 hour with no ongoing commitment required.
No Management Fee
Pay only for the care services you receive.
Transparent Pricing
Know the exact cost of service before booking.
Dedicated Care Professionals
Receive quality care from a carefully selected pool of experienced Care Professionals.
Urgent Care Support
Find support for your urgent care needs.
Personalised Care Plans
Let Homage Care Advisors create a care plan specific to your needs and choices.
Long Term Care Packages
Allow your funding to last longer with our long term packages that offer the same quality care at at lower cost.
Care Reporting
Receive a care report after every visit so you understand the care your loved ones have received for peace of mind.
Speak to a Care Advisor
Call us at 1300 705 029 or request a callback from our friendly Care Advisory team. Learn more about our range of services and find out how Homage Care Professionals can help.
Make a Care Plan together
We will work with you to develop a personalised Care Plan based on your loved one's health status, care requirements, and additional preferences.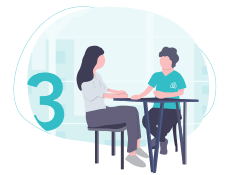 Your personalised care begins
Together we will match you and your loved ones with an exceptional Care Professional. Stay up to date after every appointment with detailed reports on the Homage app.
Top Questions About Patient Transport
What can a medical escort help with?
If you or your loved one need support with getting to and fro a medical appointment, medical escorts can help. Homage's medical escorts will:
Meet your loved one from home
Arrange for a taxi or private car pick-up, or a preferred transport mode of your choice
Ensure safe transfers in and out of transport
Accompany your loved one throughout the visit
Note down and relay doctor's advice and memos
Collect any prescribed medication as well as discharge reports, health and test reports
Arrange for a taxi or private car to bring them back home
Accompany them home safely, right to their doorstep
Our medical escort will keep your loved one safe and sound, every step of the way.
Who are the Homage medical escorts?
Homage medical escorts are licensed support workers and nurses, who are locals and come from different walks of life, each with their unique specialisations and care experiences. But they all have one common trait – a passion and dedication to delivering quality nursing care to families and care recipients.
How fast can I get a medical escort?
Once you have confirmed that you will like to engage Homage's medical escort service, we can match you or your loved one with a suitable Care Professional as fast as within 24-48 hours.
What if the appointment takes longer than expected?
In most cases, our patient transport officers will be able to continue caring for your loved one and complete the visit. If the patient transport officer is unable to stay for the extended care duration, our team will reach out to you to work out a solution together.
Do note that additional charges will be incurred if care duration is extended.
What is the shortest duration for medical escort service?
The duration of Homage's patient transportation services start from just one hour, depending on the expected duration of the appointment and your loved one's care needs.
More Services Like Patient Transport
An efficient and convenient service
Extremely professional caregivers who have created a wonderful relationship with my mother. She always looks forward to CP Catherine and CP Christina's visits. The app is so easy to use as well and makes tracking our appointments and report follow-ups a breeze.
Alice
Friendly, professional, attentive caregivers
Awesome one stop portal for my mother's medical needs. A pool of Professional caregivers are great customer service support. Thanks Homage!
Jonathan
Make Home Care Personal To Your Loved One
Have an obligation free conversation with our Care Advisory team today and learn why thousands of families trust Homage to deliver the best care in their homes.
Get Care Support