An aged care assessment, or ACAT assessment, is an important first step towards accessing aged care services. The assessment is conducted by trained professionals who want to help you access the support you need to live your best and most fulfilled life.
It is normal to feel anxious about the prospect of being assessed, but don't worry – the assessment is only there to determine your needs. You will always have the opportunity to voice your concerns, ask questions, and make your own decisions.  
What is an Acat Assessment?
An ACAT assessment, or aged care assessment, is required for people who want to access Government-funded aged care services. These assessments are organised by an Aged Care Assessment Team (ACAT). They are used to determine what kind of care a person may need.
Some of the services that are available to people who have had an ACAT assessment include access to aged care facilities, home care, residential aged care, transition care or respite care. 
 

Home care

includes assistance is your own home with day to day living. This can include personal care, eating, bathing, dressing and more. It can also include care through the night. 

Respite care

is short term care that includes assistance with daily living, nursing care, and more. 

Residential aged care

is for older people who can no longer live in their own homes. This can provide a place to live for people with ongoing requirements. 
Not all aged care services will require an ACAT assessment. You only need to be assessed if you are using services that are subsidised by the government. If you're ever unsure if a service requires an ACAT, check with the provider. 
ACAT assessors work with people who may require care and their current carer or carers. Their job is to determine what type of assistance would most benefit you. They are professionals with medical backgrounds, such as doctors, nurses, occupational therapists and social workers.
In Victoria, the Aged Care Assessment Team is referred to as the Aged Care Assessment Service (ACAS). This is the same thing as ACAT, just under a different name. 
How do I Arrange an ACAT Assessment?
You can arrange an ACAT assessment by contacting the customer service centre of My Aged Care on 1800 200 422. You can also choose to request one using the online form.
Your doctor, social worker, carer or another person in your support network can also organise an assessment on your behalf. Alternatively, family members and friends can arrange an ACAT assessment. 
It will typically take up to six weeks to receive your ACAT assessment. However, in critical cases these can be prioritised. If you feel that you need to access aged care urgently, you may be able to do so before having an ACAT. Speak to a Homage Care Advisor today at 1300 705 029, or book a free care consultation.
How Can I Prepare for an ACAT Assessment?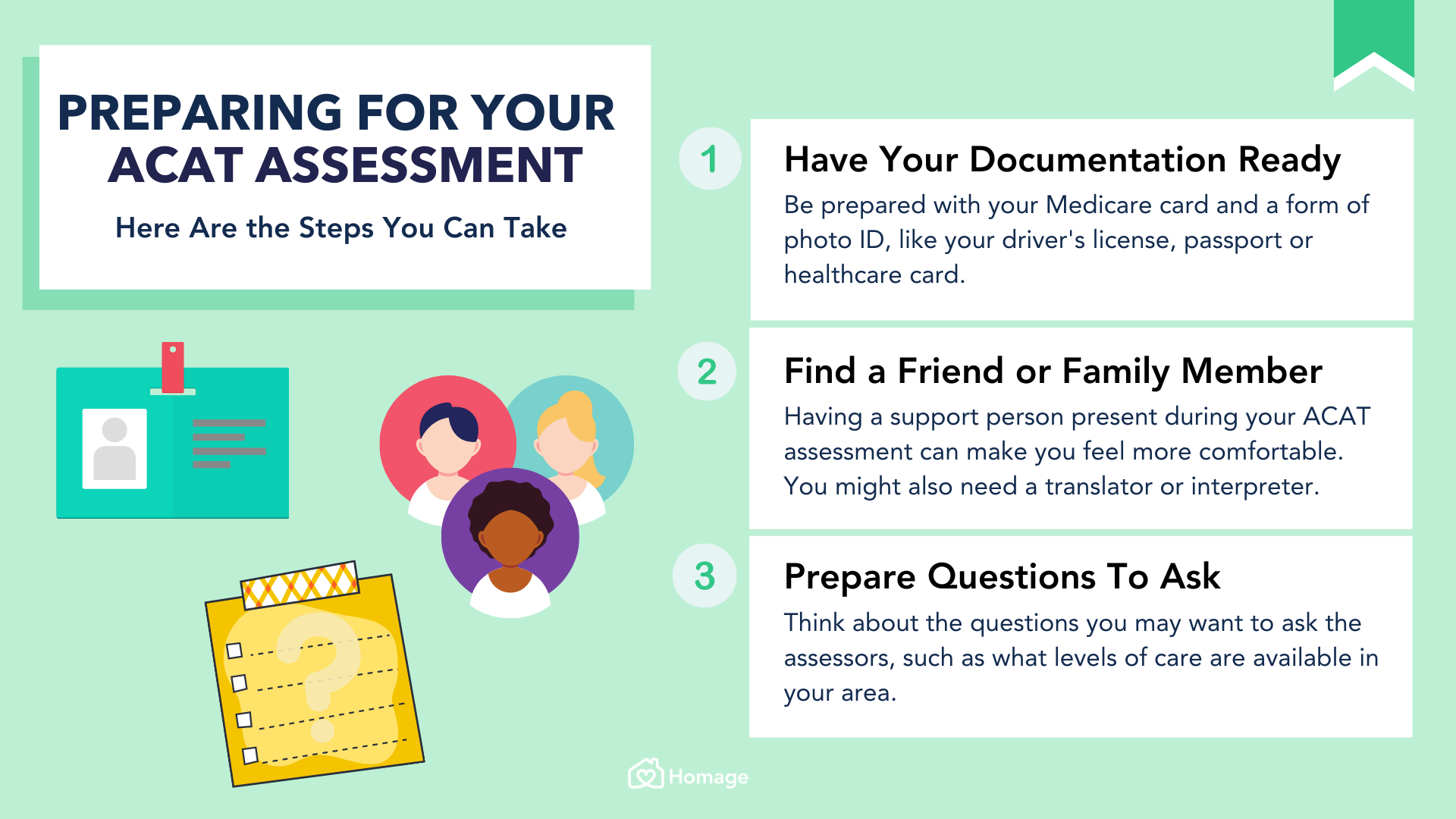 It's important to remember that an ACAT assessment is not a test that you need to be worried, stressed or scared about. It is simply an assessment of your needs and capabilities. 
To prepare for an ACAT assessment, check that you have all the relevant documentation that you might need. This includes your Medicare card and a form of photo identification such as a driver's license, passport, healthcare card, or Veteran card. 
If your doctor has referred you for an ACAT assessment, you should also have the referral with you. Always have the contact details of your GP and other health professionals on hand in case the assessors want to speak to them as well. 
If you are already receiving some level of support, such as through the Commonwealth Home Support Programme or through non-government funded service providers, you should have the information about this as well. The assessors may use this to determine how much care you are already receiving.
Can I Have Someone with Me During My ACAT Assessment?
When going through the ACAT assessment process, it can feel comforting to have someone who cares about you by your side. ACAT assessors encourage everyone to have a support person present when receiving their assessment. This may be your carer, a family member, or a trusted friend. You can choose to have more than one person if you prefer. Before you receive your ACAT assessment, arrange with your chosen support people to be present and ready to assist as needed. 
If you require any special assistance during the assessment, you should arrange this ahead of time. This may include a translator for people with English as an additional language, or an Auslan interpreter. 
If you would like some support during your assessment but don't feel that you have someone to ask, you can seek out an advocate. The Older Persons Advocacy Network is a free and independent service that provides information, advocacy and support to older people in Australia. Their assistance is completely confidential so you can be confident when asking questions and seeking guidance.
Should I Feel Worried About an ACAT Assessment?
An ACAT assessment should not be any cause for stress or worry. It's normal to feel anxious about getting assessed but remember that the assessors are only there to help you. 
The assessors will always treat you with dignity and respect. The assessment process follows guidelines that are set out in aged care law. 
During the assessment, you can express any views and opinions that you want. The assessors will never ignore, reject or criticise you. It's important to make any comments you would like and ask plenty of questions if you have them. 
You won't need to make any decision during the assessment, so there is no pressure to choose a level of care or a service provider on the spot. When you receive the outcome of your assessment, you will have plenty of time to consider your options.
What Happens in an ACAT Assessment?
Your assessment will begin with the assessors introducing themselves and asking for your permission to conduct the assessment. Even if you have been referred by a GP or someone else, you do not have to consent to the assessment if you don't want one.
The assessors will also ask for your permission to speak to your support people – both the ones that are with you on the day, and additional supports such as your doctor or other family members.
Normally, you will be required to fill out an Application for Care Form. This form is needed for people who are accessing services such as residential care, home care and flexible care. The form is only to say that you are applying for approval to receive aged care services. It does not mean that you must agree to receive the type of care recommended by the ACAT assessors. You can look at a copy of the form ahead of time if you would like. 
The assessors will then have a discussion with you about your needs and your day-to-day life. They are trying to gain a comprehensive picture of what your circumstances are so that they can provide tailored recommendations on the level of support you require. Assessors will also speak to your health professionals to gain a thorough understanding of your health and any concerns your doctors may have.
They will provide information to you and your support person about the types of services you can access, the services that are available in your area, and the possible costs of these services. They can also direct you to places to find more information. 
Finally, the assessors will help you to develop a support plan. This plan records the services that are best placed to help you. It is unique to each person and will include information on your personal strengths, anything you find difficult, your goals moving forward, and your preferences for services. The assessor will work with you to determine what you would like to achieve; whether this be regaining your confidence, being more independent in the community, or getting some extra help around the home. 
What Questions are Asked in an ACAT Assessment?
The assessors will ask lots of detailed questions so that they can understand your needs. There are some main areas that they will ask about.
Your Current Level of Support
Questions may include how much support and assistance you already have, who provides this assistance, and whether you feel that it is adequate. The assessors will gain an understanding of how connected you are to family, friends and the wider community. They will also want to know who you may contact in case of an emergency and who is close by to offer help.
Day-to-Day Life
The assessors will get an overview of your daily life, including things like tasks around the home, mealtimes, bathing, shopping, leisure activities and more. They may ask if you find any daily tasks difficult or if you would like more help with them. They will also talk about mobility and how you find moving around both your own home and public places. 
Your Health
While the assessors will normally consult with your doctor for detailed information on your overall health, they will also ask you for your opinion on your healthcare. They will talk about any specific conditions, illnesses or injuries, and ask you if you have any concerns. They will ask about any medication you are on and if you require assistance with taking this.
Your Memory
Memory is a common problem as we age. The assessors will ask about your memory and try to determine if you have any memory loss. Your family and friends may be able to help provide insight to this. 
Your Goals
Your personal aspirations and what you want to achieve matters. The assessors want to know what you want for your care. They will ask about what you hope to do, such as continuing in a particular activity or gaining more independence. They will want to know if you prefer to stay in your own home, or if you would like to move into residential aged care.
What Questions Should I Ask at My ACAT Assessment?
Often, people receiving an ACAT assessment will have questions about the levels of care available. It can be a good idea to collect some information on aged care services ahead of time and write down a list of your questions so you are prepared when the assessors are there. 
Some questions you may like to consider asking at your ACAT assessment are:
   

What services are available and how will they help me?

   

Can I access these services in my local area?

   

What are the waiting times for services?

   

Can my carer also access support? 

   

Are there service providers that speak my language?

   

What happens if my needs or circumstances change?

   

What happens if I don't like the outcome of my assessment?
Don't worry if you forget to ask a question or you think of something after your assessment. Your assessors will provide contact details so you can easily get in touch with someone to talk about your assessment, service options, and your next steps. 
I've Had My ACAT Assessment. What Happens Next?
After your assessment, you will receive a letter notifying you of the outcome; the ACAT assessors will not tell you at the time. This is because they need to go away and consider your assessment further before making a decision.
The letter will outline the services that you have been approved for. The assessors use specific evidence provided by you and your support people to come to a decision. The reasons for this decision and the evidence they used will be included in the letter. You should keep copies of all these documents for your personal records.
If you don't agree with the decision of the assessors, you can appeal within 28 days. If you would like to discuss the outcome, a name and contact number will be provided to you.
You have the final decision to accept the recommendation provided by ACAT. There is no requirement that you access the services that you have been approved for if you don't want to. 
Does an ACAT Assessment Expire?
If you received an ACAT assessment a few years ago and you are now wanting to access aged care services, the assessment will still be valid. However, it's a good idea to get a new assessment to determine your needs more accurately. Circumstances change and your requirements and capabilities may have shifted since your last assessment. 
ACAT assessments may seem daunting, but with a bit of knowledge and preparation, you can feel confident about receiving your assessment. Make sure that you have someone to support you through the process, and never be afraid to share your thoughts and opinions or to ask questions. The assessors are there to help you, not to force you into anything you don't want. If you are ever unhappy with any aspect of your ACAT assessment, there are channels available to appeal the decision or file a complaint. 
Provide the best care to your loved one today!